See our Calendar for a listing of what's on this month
Access to Community Health Specialists
Not sure what to feed your selective eater? Feeling overwhelmed with your responsibilities as a parent? Have questions about your baby's sleep patterns?
Creating Together can connect you to a Public Health Nurse, a Community Health Worker, or a Resource Educator who can answer your questions and give you more information on early childhood development. Please speak to a staff member, or check the calendar often for updates on any in-centre visits.
Parenting/Caregiver Workshops and Information Sessions
Join us for educational workshops and sessions on a range of subjects related to children's and family wellbeing. Workshops are delivered by highly qualified early years professionals and facilitators who provide their services free-of-charge.
Past workshops included:
Toddler and infant food preparation provided by a facilitator from Food Share
Workshops for dads
First Aid and CPR training
Peer nutrition
Women's health
"Nobody's Perfect" a positive parenting and disciplining program for parents of children birth to age five
Oral and dental health
Early literacy
Please check our Calendar for upcoming workshops.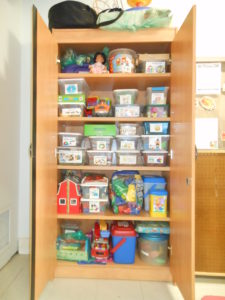 Resource Lending Library
Parents and caregivers can borrow a variety of toys, books, and educational videos to use at home. These resources extend learning and development opportunities for both children and adults.
**This program is currently on hold due to COVID-19.
Back to top.