Our volunteer Board of Directors is committed to ensuring that Creating Together is well-managed and well-resourced in order to serve our community for years to come.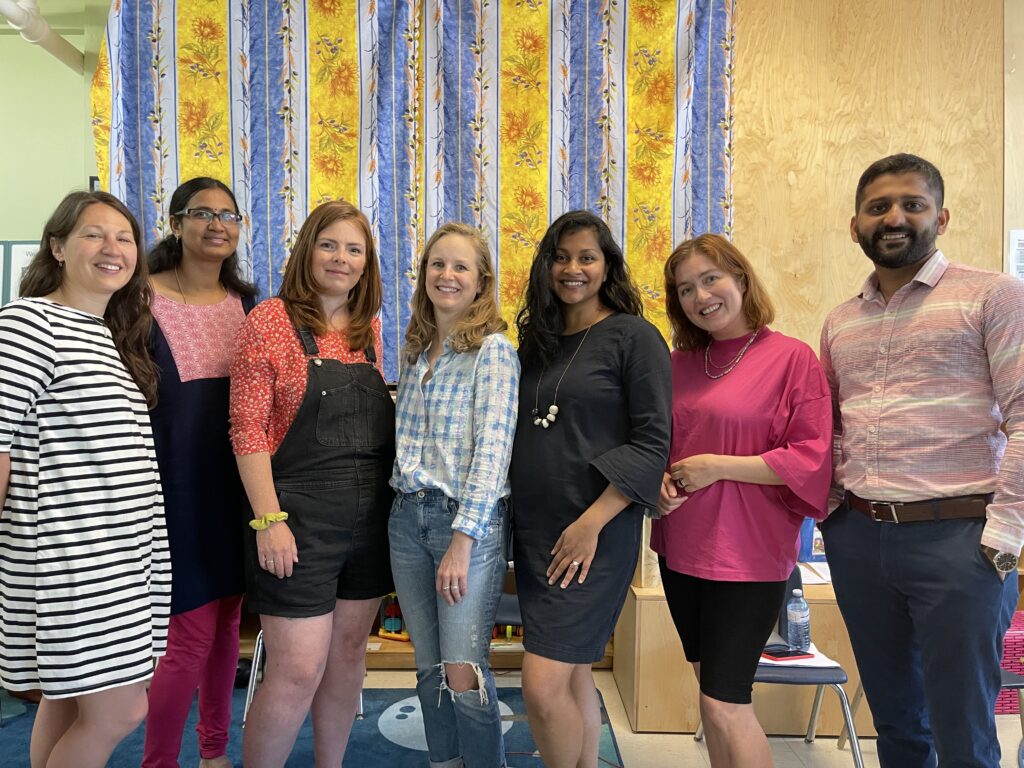 Creating Together Board of Directors 2022-2023
Sarah Aranha – Co-Chair
Sarah Aranha is a museum consultant and illustrator, and recently completed her MA in Adult Education and Community Development. She has been participating in Creating Together programs since 2015 when her son was born, and joined the board in 2016. As a Board member Sarah enjoys working with a group of community-minded folks to support this treasured community resource, and to ensure that Creating Together has the resources it needs to continue offering quality programs to Parkdale families.
Stephanie Moore – Co-Chair
Stephanie Moore is a Registered Early Childhood Educator, mama to Benjamin, and a resident of Parkdale since 2006. Stephanie has worked with and supported families in Parkdale in various roles over the years, as a local preschool teacher, nanny, and now in her home-based daycare. As an advocate for children and families, she believes that all children have the right to a safe, stimulating and developmentally appropriate environment to explore in and grow. Stephanie and her family are so grateful to be part of the Creating Together community.
Rahul Vekaria – Treasurer
Rahul is an experienced Investment Professional who migrated to Canada in 2020 to further his professional opportunities. He values empathy, kindness, and making a difference in his community, and is proud to take on the Treasurer role at Creating Together. Outside of work, he is very passionate about cricket (both watching and playing), enjoys taking in the beautiful landscapes around the city, and is always on the hunt for a nice vegetarian Indian restaurant.
Season Kam – Secretary
Season has lived in the Roncesvalles-Parkdale neighbourhood since 2019 and began her relationship with Creating Together as a parent accessing the services. Both of her sons have thrived there, and the Centre continues to have a significant impact on her experience as a parent. She joined the Board with hopes of helping CT grow to its fullest potential, serving a unique diversity of families in the west end of the City.
Lauren Delves
Lauren comes to Creating Together with a background in marketing and communications in both the for-profit and non-profit sector. She is a new mother to baby Willow, a lover of Parkdale, and an advocate for accessible community supports like Creating Together. When not working or volunteering, Lauren can be found exploring the city on foot or bike, or engaged with her other passions which include nature, travel, art, food, and music.
Nithya Priya
Julia Turvey
Julia is mother to Elizabeth and Alexander, and they have been coming to Creating Together since Lizzie was a baby. They all love circle time and singing with their friends at Creating Together. When she is not spending time with her kids, she is counsel at the Department of Justice for the federal government.
---
Interested in joining Creating Together's Board of Directors?
If you are passionate about strengthening families and making a difference in the Parkdale community, consider supporting the Creating Together Family Resource Centre by joining our team as a volunteer member of our Board of Directors.
All board members must:
Have an interest in community work and in making a difference locally.
Be committed to supporting Creating Together and its mission "to support the healthy social, cognitive, emotional and physical development of children 0 to under 6 years and their families."
Attend monthly Board meetings, whether virtually or in-person.
Participate in subcommittees (such as fundraising), presentations to funders, and other periodic activities.
The Board of Directors consists of up to 9 members drawn from various segments of the community. A variety of backgrounds, skill sets and perspectives are valued. The term of office is 1-2 years. Previous experience with Boards and non-profit organizations is an asset, but not required.
Board meetings are held monthly (excluding August and December), usually the third Thursday at 7:30pm, although this changes as necessary. Board members also participate in board committees and are involved in periodic strategic planning sessions and community events.
How to Apply
To apply, please complete submit a cover letter and current resume to creatingtogether@rogers.com