Creating Together's services are designed to welcome children from 0 to 6 years of age and their families/caregivers in a safe, educational and nurturing environment. Through our various programs, families can meet, interact, have fun and learn from each other.
Programs for Families
EarlyON Child and Family Centre
Family Playtime
Daily Nutritious Snack at Creating Together
Early Years Physical Activity/ Outdoor Program
Clothing Exchange**
Day Trips
Celebrations and Community Events
Programs for Parents and Caregivers
Access to Community Health Specialists
Parenting/Caregiver Workshops and Information Sessions
Resource Lending Library**
Read on below for more information on each program. See our Calendar for a listing of what's on this month.
**Programs currently on hold due to COVID-19.
---
Family Playtime
Join us every day for free play with various educational materials, circle and story time, engaging gross motor activities, and sensory exploration such as sand and water play. Our crafts and creative projects focus on celebrations and the many diverse cultures of our families.
Family Playtime hours are:
Monday 9:00am – 2:30pm
Tuesday 9:00am – 2:30pm
Wednesday 9:00am – 2:30pm
Thursday 9:00am – 2:30pm
Friday 9:00am – 1:30pm
We are open two Saturdays a month from 10:00am to 2:00pm.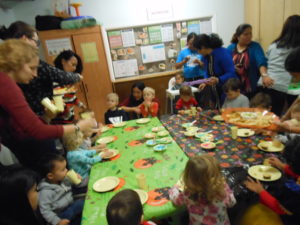 Nutrition at Creating Together
As the saying goes, "the family that eats together, stays together!" We believe that good eating starts at home, and we aim to support parents and caregivers with ideas on how to eat healthily as a family.
Enjoy a nutritious Snack Time with us, at 11:00am every day.
To learn more about how to promote healthy eating habits, come to one of our healthy eating workshops facilitated by a highly qualified Public Health Nurse.
Please note that Creating Together is a nut-free facility.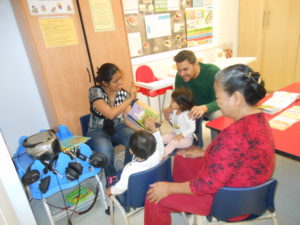 Daily Storytime
Storytime takes place every day before 11:00am. Parents and caregivers are welcome to bring a special book from home that can be shared during this time.
A curated selection of books are available for families to explore at all times in the centre, and a variety of children's books can be borrowed for use at home through our Resource Lending Library.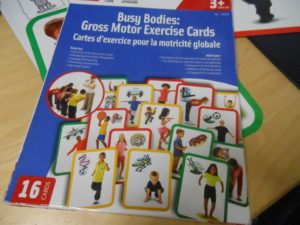 Early Years Physical Activity and Movement Program
Get moving with Creating Together! This exercise and movement program provides an opportunity for parents and caregivers to participate together. Children learn to build on many skills including listening, singing, movement and participation. This program supports each child's fine and gross motor skills through simple exercises and concepts like using cards with pictures to demonstrate different exercise poses, parachute play, and scarf dancing.
This program is aligned with the City of Toronto's Rainbow Fun Guide – a physical activity and healthy eating program for children 3 to 6 years. The Rainbow Fun Guide includes information and interactive activities for child care providers, educators and parents that do not require expensive equipment, making it easy for parents and caregivers to do the routines at home with their children.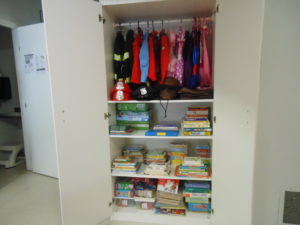 Clothing Exchange
Parents and caregivers are welcome to donate gently used children's clothing and use the clothing exchange during program hours.
*This program is currently on hold due to COVID-19.
Celebrations and Community Events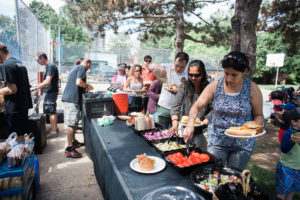 We come together as a community to celebrate occasions such as Black History Month, Family Day, International Women's Day, Mother's Day, Father's Day, Literacy Day, and seasonal holidays such as Chinese New Year, Tibetan New Year, Easter, and Christmas.
All Creating Together member families are welcome to attend our Annual Summer Picnic. The Picnic gives us an opportunity to celebrate another fun-filled year of family programming before the summer break.
Access to Community Health Specialists
Not sure what to feed your selective eater? Feeling overwhelmed with your responsibilities as a parent? Have questions about your baby's sleep patterns?
Creating Together can connect you to a Public Health Nurse, a Community Health Worker, or a Resource Educator who can answer your questions and give you more information on early childhood development. Please speak to a staff member, or check the calendar often for updates on any in-centre visits.
Parenting/Caregiver Workshops and Information Sessions
Join us for educational workshops and sessions on a range of subjects related to children's and family wellbeing. Workshops are delivered by highly qualified early years professionals and facilitators who provide their services free-of-charge.
Past workshops included:
Toddler and infant food preparation provided by a facilitator from Food Share
Workshops for dads
First Aid and CPR training
Peer nutrition
Women's health
"Nobody's Perfect" a positive parenting and disciplining program for parents of children birth to age five
Oral and dental health
Early literacy
Please check our Calendar for upcoming workshops.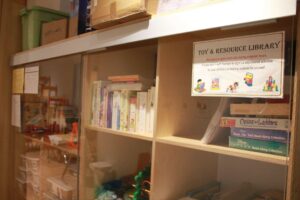 Resource Lending Library
Parents and caregivers can borrow a variety of toys, books, and educational videos to use at home. These resources extend learning and development opportunities for both children and adults.