Creating Together is really excited to welcome back Neetu Malhotra to the team!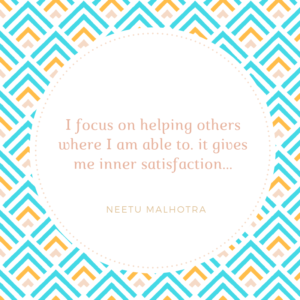 Neetu has committed much of her professional career to serving others, and sharing her compassionate, loving nature to improve the lives of those around her. She has 10 years experience teaching in India before receiving her Early Childhood Education from Humber College. She has also worked as a personal support worker for the elderly. Now, she extends her compassionate nature to helping the families and children of Creating Together.
Feeling stressed and in need of some positivity? Neetu is a believer in deep relaxation, with positive thinking as a tool of achieving greater happiness – so if you're looking for a positive lift, reach out to her!
She will be working Monday to Wednesday, 8:30-12:30pm, Thursday 11:45-2:45pm. Neetu will also be available any other times needed such as special events, and covering the floor when staff are away.
It is so great to have you with us Neetu!