2016 was an action-packed year for Creating Together. Here is the last post in our top 5 favourite things series.
Without a doubt, our number one favourite thing in 2016 was the amazing community that has been fostered by Creating Together over the year. We are so thankful for this supportive community of families, staff, Board members and donors!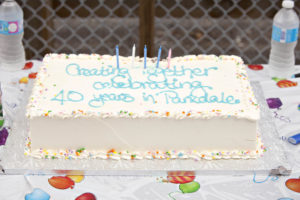 Our Board Chair, Alan McDougall, would like to share a note to our community:
Dear families and friends,
2016 has been another exciting year for Creating Together. As always, we've had our daily programs of activities, with circle and snack time, special parties, and tons of other activities – not to mention the day trips outside Toronto to pick apples and strawberries. On top of that, we successfully launched an extended hours program on Tuesday and Wednesday afternoons and we celebrated the Centre's 40th birthday in style, not once but twice! The 40th Anniversary party at Fuller Avenue Park was a real highlight, with dramatic stormy weather followed by sunshine, plus face painting, craft stations, a barbecue and an enormous cake.
I'd like to thank my fellow Board members and our dedicated Staff for all of their hard work and good cheer this past year. Most of all, I'd like to thank you all for your continued support in making Creating Together such a great Parkdale institution. We have exciting plans to develop the Centre in 2017, so stay tuned to the website for updates!
 With best wishes for the holidays and New Year,
Alan
We look forward to seeing you at the Centre in 2017!