With blueberries easily available at this time of year, this is a great recipe to try out at home.
Makes 9 squares
Ingredients: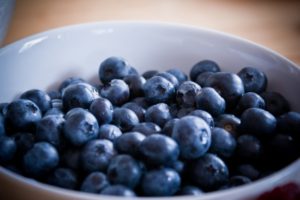 1 ½ cups quick cooking oats
½ cup whole wheat flour
½ teaspoon baking soda
½ teaspoon salt
1 teaspoon ground cinnamon
1 egg
1 cup skim milk
3 Tablespoons unsweetened applesauce
½ cup blueberries
Directions:
Preheat oven to 350℉.
Grease a 9" x 9" baking dish with cooking spray, butter, or oil.
Place all the ingredients into a large bowl and mix until just combined.
Pour the mixture into the prepared baking dish. Bake for 20 minutes or until a toothpick inserted into the centre comes out clean.
Let it cool for 5 minutes and then cut into squares.