We had many hands helping us whip up a batch of these Maple Apple Oatmeal Muffins yesterday! The children had fun measuring ingredients, pouring them out, and mixing the batter together with our staff. They had even more fun enjoying them at snack time!
Feel free to modify this recipe based on your child's tastes and their experience with solids. You may use less sugar than this recipe calls for, or you can try adding raisins and a pinch of cinnamon.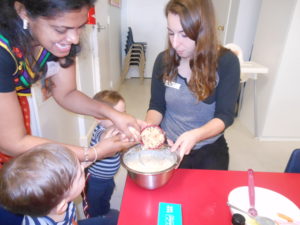 Maple Apple Oatmeal Muffins
Ingredients:
1 1/4 cups quick-cooking rolled oats
1 1/2 cups milk
2 cups all-purpose flour (you can use a combination of white and whole wheat flour)
1 Tablespoon baking powder
1/2 teaspoon salt
1/3 cup sugar (brown or white)
1/2 cup maple syrup
1 egg
1/4 cup butter, melted

Pouring flour into the dry ingredients.butter, meltedbutter, meltedbutter, melted

1 tsp vanilla extract
2 cups apples, diced (you can peel them or leave the skin on)
Directions:
Preheat oven to 400 °F (200 °C).
Lightly butter a non-stick muffin pan or line with paper liners.
In bowl, combine the oats and milk and let it stand for 5 minutes.
In a separate large bowl, combine the flour, the baking powder and salt.
Whisk in the sugar, maple syrup, egg, butter and vanilla extract into the milk mixture.
Pour this into the dry ingredients and add the apples. Stir until just moistened.
Spoon the batter into prepared muffin pan.
Bake for about 25 minutes or until the tops of the muffins are firm to the touch.
Let cool in pan for 10 minutes and then transfer to rack.
Enjoy!