Here's an outdoor art activity, courtesy of The Tiptoe Fairy, which uses ingredients you'll probably already have around the house, and rest assured – it is easy to clean up with wipes and water!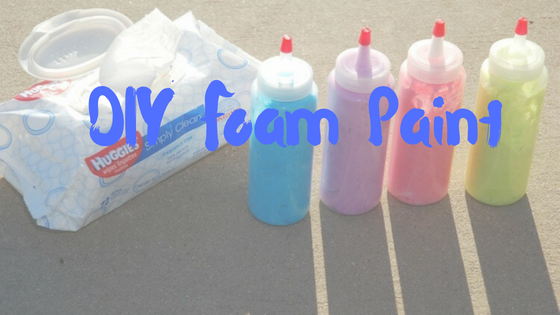 Supplies:
Two 4 oz. bottles of WASHABLE school glue
1 cup white flour
4-5 cups plain white shaving foam
food coloring drops
1 gallon plastic zipper bag
sandwich-sized plastic zipper bags – 1 per food coloring
scissors
Optional: plastic squirt bottles (such as used for tie dyeing)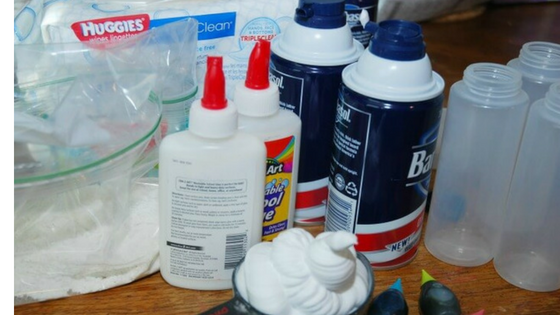 Let's Make Some Foam!
In a gallon-size plastic zipper bag add 1 cup of flour.
Pour both bottles of washable school glue on top of the flour. Make sure it's washable for easy clean up!
Spray about 4-5 cups of shaving foam into the bag.  At first I attempted to measure it in a measuring cup, but it was ridiculous trying to get it out of the measuring cup.  So, after the first cup, I just eyeballed it.
Close the bag and knead it for a few minutes until everything is totally mixed.
Snip one corner of the big bag and squirt into sandwich-sized plastic zipper bags to divide it up per color. I went with four neon food coloring bottles, so I divided it up into 4 smaller bags. One each of blue, purple, pink, and green.
Add 10 drops of one food coloring to each bag.
Knead each smaller bag until color is throughout all the bag.
Snip off the edge and squirt it into plastic squirt bottles. Or you can be frugal and just paint with the zipper bags.  If you keep it in the bags, just snip off a tiny corner, so it doens't come out too heavy.