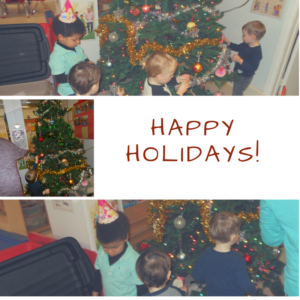 Children came together with their families and caregivers to decorate our tree, an annual celebration we always look forward to at Creating Together.
Have you ever wondered what the tree decorating tradition has come from?
It so happens that in many traditions, filling one's home with the greenery of life has been a symbol to bring strength and health at a time when the sun was returning.
"The idea of bringing the evergreen into the house represents fertility and new life in the darkness of winter, which was much more of the pagan themes." (Dr. Wilson, University of Sydney).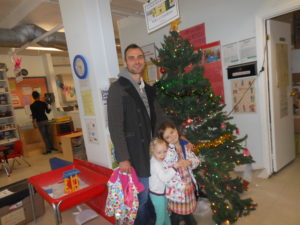 For example, in the Northern hemisphere, the winter solstice (shortest day and longest night of the year) falls on December 21 or December 22. Many ancient people brought evergreen boughs into their homes, as a  reminder of the return of all the green plants and the return of the strength of the sun god in summer after his wintry illness. In Northern Europe, the Celts decorated their druid temples with evergreen boughs which signified everlasting life. Further up north, the Vikings thought evergreens were the plants of Balder, the god of light and peace. The ancient Egyptians had a similar tradition, but with the god Ra, who had the head of a hawk and wore the sun as a blazing disk in his crown. At the solstice, when Ra began to recover from the illness, the Egyptians filled their homes with green palm rushes which symbolized for them the triumph of life over death. Early Romans also marked the solstice with Saturnalia, a feast in honor of Saturn, the god of agriculture. With the coming sun came the growth of food, so to mark the occasion, they decorated their homes and temples with evergreen boughs.
However, bringing branches and boughs is quite different that bringing in a full tree and decorating it – a tradition that we can thank 16th century Germany for, when devout Christians brought decorated trees into their homes. Some built Christmas pyramids of wood and decorated them with evergreens and candles if wood was scarce. German settlers migrated to Canada from the United States in the 1700s, and brought with them which we celebrate today, such as gingerbread houses and advent calendars. However, it became an official tradition throughout England, the US, and Canada, when Queen Victoria's German husband Prince Albert erected a Christmas tree at the Windsor Castle in 1848.
Whatever your tradition at this time of year, most of us can certainly agree that the return of brighter days is certainly worth celebrating – so enjoy the holiday season with your loved ones, however you choose to celebrate!
For more information on tree decorating history:
https://www.zmescience.com/science/history-science/origin-christmas-tree-pagan/
http://www.abc.net.au/news/2016-12-19/the-history-of-the-christmas-tree/8106078