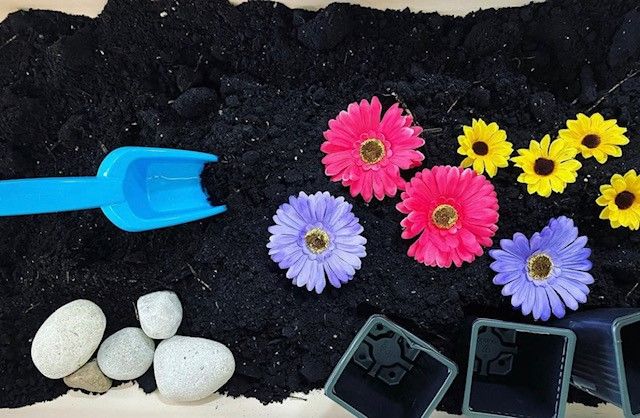 It's time to welcome May here in Parkdale – and with it, we mark one successful month of drop-in programs! This month we acknowledge CMHA Mental Health Week May 2-8, 2022. We also wish a Happy Mother's Day to all of the Mothers in our community, and Eid Mubarak to the Muslim Community! We look forward to celebrating and acknowledging these days in the centre this month. The warmer weather brings some exciting changes at Creating Together. Read on below for further programming updates and news.
COVID-19 Protocol
We have returned to mandatory masking in the centre, and encourage the same for children over the age of two, should they be able to comfortably mask. We will no longer be screening upon your arrival, yet we invite you and your family to self-screen using the following tool or our posted notice at the door. We wish to remind families who have travelled outside of Canada, that Ontario Public Health requires that you wear a mask in public spaces for 14 days, monitor symptoms, and track all close contacts.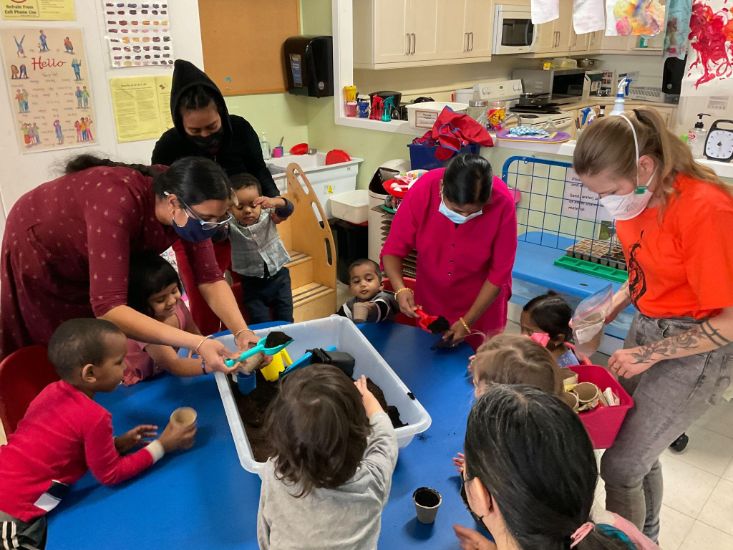 For the safety and respect of all of our community members, we continue to ask that you remain at home if a member of your household feels unwell. For families who continue to feel well enough to join us at the centre, please ensure you sign yourself in and out of the program on the attendance sheet.
We are thankful for your continued cooperation.
Program Update
Thank you to everyone who has joined in as we re-opened the drop in program for the first time in two years. The gravity of how important this space is for children and families to gather and connect has never been clearer. We are grateful to rebuild our practices together and build new understandings of what we all need to feel safe, welcomed, and represented in this space as we support young children who are growing and learning within a complex world.
Invitation to Collaborate
As staff and families re-acquaint ourselves with the program we would like to invite more collaboration back into the centre.
Would you like to lead circle or story time?
Would you like to plan a special day or celebration?
Do you have feedback or suggestions on how we can better represent and support you and our community?
Do your children have questions or inquiries they would like to explore at Creating Together?
Help us represent your home language at the centre by making labels for items in the centre!
Over the next few weeks Leah will be checking in with families in-person, emails, and phone calls to connect on how we can meet your needs going forward. Please feel free to connect with Leah during drop-in program for an informal chat about ideas or ways you might want to contribute to the program.
Community Guidelines
With drop-in program re-established we would also like to provide some updated community guidelines:
Please ensure food/eating/chewing takes place at the tables and hands are washed before returning to playtime.
Creating Together is a place for caretakers, parents, and guardians to connect and play with children. Play is an essential way young children learn. We discourage cell phone use and encourage you to instead focus on following your child's joy, curiosity, and interests while joining our programs.
Thank you for participating in cleanup routines and modelling collaboration. We are looking into the future and considering how we can safely return to a more open kitchen policy for families. Thank you for your patience as we continue to limit kitchen use and take gradual steps to ensure we re-open safely.
New Outdoor Program!
Our new Outdoor Program will begin on May 2nd and will be held on Mondays and Tuesdays. Drop-in program will be provided at 9:00am-10:30am at Beaty Avenue Parkette (66 Beaty Avenue, a two minute walk from Creating Together). Following our outdoor program, we will walk back to Creating Together for snack at 11, followed by indoor programming. See below for our schedule.
Program Schedule
We continue to offer a reduced virtual program schedule (including Science with Sal), as well as in-person program Monday to Friday 9:00am-1:30pm and two Saturdays a month 10:00am – 2:00pm (please note the location of programs below). You can also view additional program details and special events on our monthly calendar, linked here.
Monday & Tuesday
9:00am – 10:30am- Beaty Avenue Parkette (Outdoor Program)
10:30 – 11:00 – Family Transition Time
11:00am – 1:30pm – Creating Together (Indoor Program)
Wednesday – Friday
9:00am – 1:30 pm – Creating Together (Indoor Program)
Two Saturdays a month:
10:00am – 2:00pm – Creating Together (Indoor Program)
Special Guests
We are lucky enough to welcome two special guests this May for circle time! Mark your calendar and join us for these exciting guest visits at Creating Together:
Natalija from Parkdale Library, will join us May 4th from 10:00am – 10:30am
Nina from Glitterbug 2SLGBTQ+ EarlyON Program, will join us May 11th from 10:00am – 10:30am
We look forward to being joined this month by an Early Childhood Studies student from Toronto Metropolitan University, and an ECE student from Humber College. Let's give them a warm-Creating Together-welcome!
Resource Boxes
With the expansion of our in-person services, Resource Boxes will be limited in materials moving forward. Resource Boxes will still be available for families actively using our program, in the first two weeks of May, until May 13th.
To book your pickup time, please contact Creating Together by phone or email: (416) 537-1004 / creatingtogether@rogers.com.
Let's Keep Connected
To see some of Creating Together's daily sunshine, give us a follow on our new Instagram account @creatingtogetherearlyon – catch all of our centre updates, shared activities, and unforgettable program moments!
Welcome May! We're so glad you're here.