New Outdoor Program has begun!
It's that time of year! The weather is getting nicer and we are so happy to announce the return of outdoor programming starting May 2nd.
Our new outdoor program will be held on Mondays and Tuesdays, with Drop-in program provided from 9:00am-10:30am at Beaty Avenue Parkette (66 Beaty Avenue, a two minute walk from Creating Together).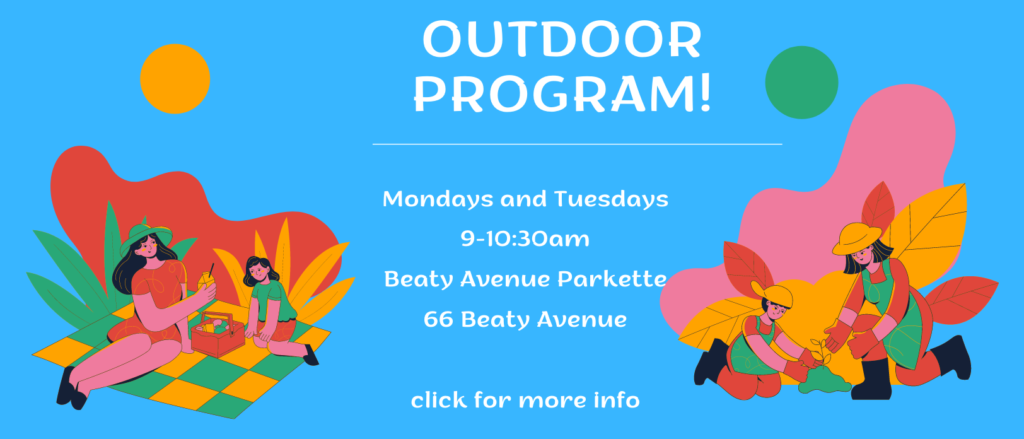 Benefits of Nature
Researchers and natural environmentalists have been studying the effects of exposure to nature on children, and have found some interesting results: Engagement with nature has huge benefits for children physically, mentally, emotionally, and socially.
For instance, Adams & Savahl (2017) discovered it has a significant influence on children's emotional and social well-being, while Pensini, Horn, & Caltabiano, (2016) discovered that early exposure to nature improves one's mental health as an adult. Would you like to help improve your child's short-term memory and ability to focus? Another study shows that being in nature for extended periods of time promotes the development of attention skills, while protecting against inattention-hyperactivity symptoms such as (Ulset, Vitaro, et al, 2017). There are also a number of physical benefits, such as improved vision, and reduced risk of obesity.
So what are you waiting for? Let's get outside!
What should I bring?
It's always good to come prepared 🙂 Please bring:
water bottles,
sunscreen, and
weather appropriate clothing.
After the outdoor program ends at 10:30 am, the Creating Together staff will stroll back to the centre to continue the program and provide snack at 11:00 am. We welcome families to join us on our stroll back to the centre, and for those who wish to join at the centre, we encourage you to come at 11:00 am or later.
Do I need to wear a Mask?
Masks will not be required for outdoor programs however our staff will remain masked. During Outdoor Programming Creating Together indoor space will be closed for drop-in, however if you need to use the washroom during the outdoor program you can head to the centre.
What if it rains?
If the outdoor program is rained out, we will instead open the indoor drop-in program at the centre.
Outdoor and Indoor Program Schedule
Here's when we are outside and inside through the week:
Monday & Tuesday
9:00am – 10:30am- Beaty Avenue Parkette (Outdoor Program)
10:30 – 11:00 – Family Transition Time
11:00am – 1:30pm – Creating Together (Indoor Program)
Wednesday – Friday
9:00am – 1:30 pm – Creating Together (Indoor Program)
Two Saturdays a month:
10:00am – 2:00pm – Creating Together (Indoor Program)
You can view additional program details and special events on our monthly calendar, linked here.