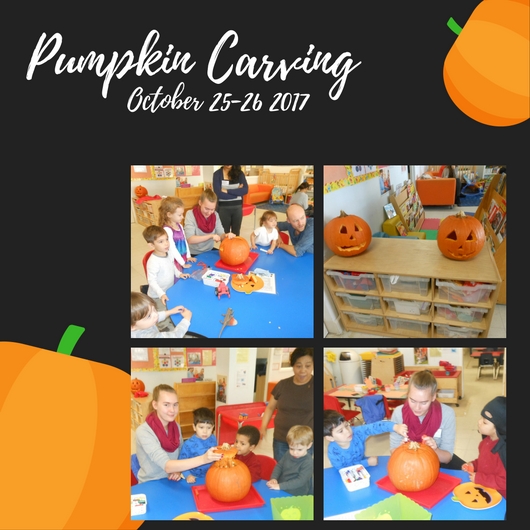 Children came together with their caregivers and parents to celebrate the old Celtic autumn tradition of carving pumpkins!
Halloween dates back to the Celtic farming festival "Samhain". The holiday marked the end of the harvest season and the beginning of winter.
As the crops died, farmers believed there was a day when spirits could rise from their graves. During Samhain, Celtic people would dress in disguise to fool and ward off the spirits, hoping to protect their land through the upcoming winter.
As part of their autumnal celebration, they wanted to light the way to their homes for the good spirits, and ward off evil spirits, so they carved faces into vegetables such as turnips and squash (they didn't have pumpkins). When the Irish came to North America, they quickly learned that pumpkins were larger for carving,  and so the tradition began!
Thank you for joining us as we celebrate the harvest and beginning of winter!
References:
http://abcnews.go.com/US/history-halloween/story?id=50715177
https://en.wikipedia.org/wiki/Jack-o%27-lantern