Creating Together warmly welcomes Helen Vogt, a second year Ryerson student in the Early Childhood Studies program, completing her eleven-week placement at Creating Together Family Resource Centre.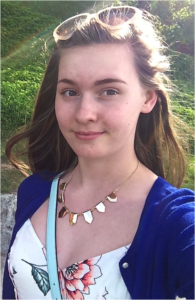 Helen comes to us with a significant amount of experience working with children of all different ages, from toddlers up to age 11. In 2015 she completed her cooperative education placement in a kindergarten classroom for five months, and even after she completed her placement she continued volunteering with the classroom until the end of the year!
Helen is creative, organized, and artistic, with a love for planning activities and crafts for children. Make sure your children take advantage of her creativity at the crafts and activities table in Creating Together!
Upon completion of her program, Helen plans to attend teachers college so she can work as a kindergarten teacher. Ultimately though,  she thinks she'll go into childcare and eventually have her own home childcare centre.
Thank you for joining us Helen, and sharing your passions and experience with the children of Creating Together!