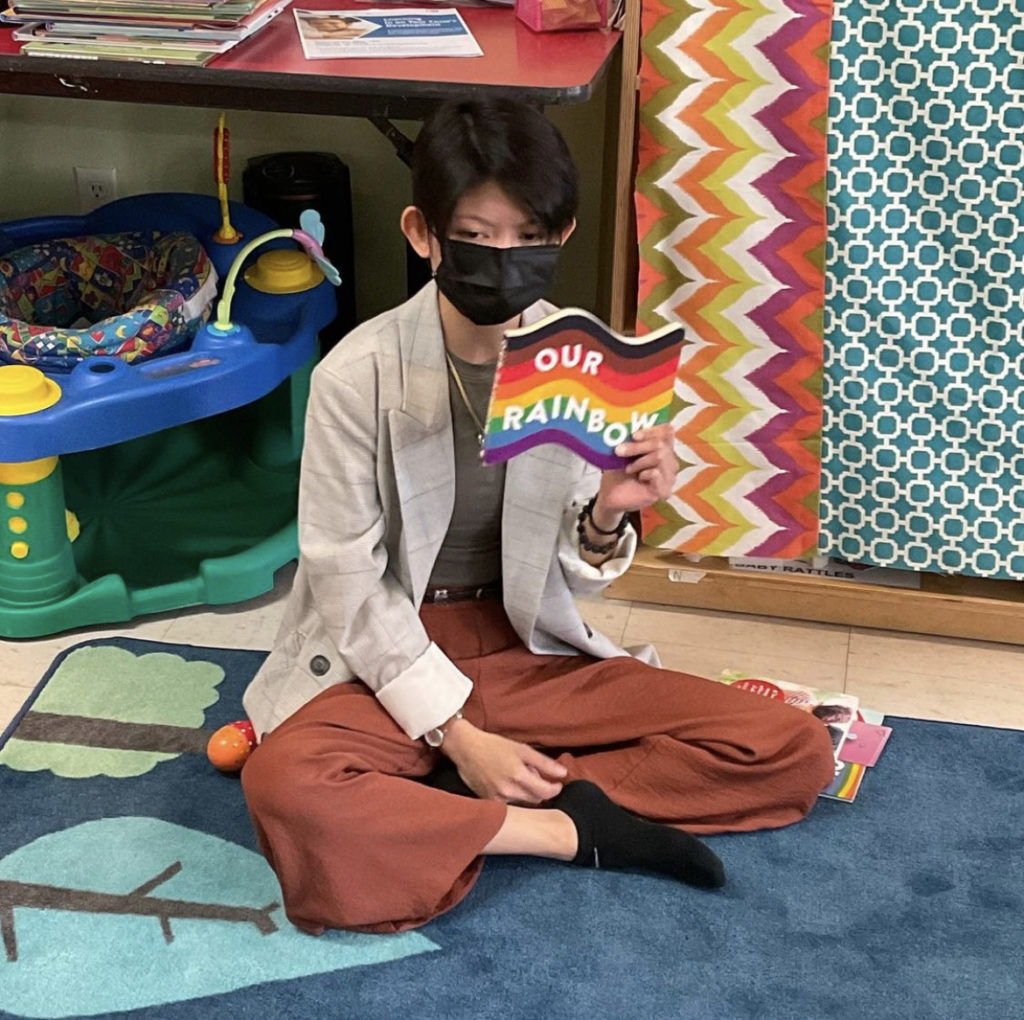 As we welcome June in Toronto, we look forward to supporting and celebrating the 2SLGBTQ+ community through Pride month (and beyond)! To kick off these celebrations and important conversations at Creating Together, we've asked Niña Cabaguio (she/her), RECE and Coordinator of Glitterbug: 2SLGBTQ+ EarlyON Mobile Program at the 519, to offer some children's book recommendations! 
Niña's Book Recommendations for Pride Month
#1) Love Makes a Family (Ages 0-3)
Love Makes a Family by Sophie Beer is a wonderful board book for our 0-3 years of age that talks about the various structures of family and types of love. There are beautiful illustrators of cultural diversity and family diversity that enriches a welcoming and inclusive space!
#2) Neither by Airlie Anderson (ages 4-8)
Neither by Airlie Anderson is one of my go-to books when it comes to explaining the spectrum of gender (and outside of the gender spectrum) that exists! Neither showcases the nonbinary terms in a child-friendly and fun way. Did you know the "+" in our 2SLGBTQ+ acronym is to showcase all the types of gender identities?
#3) Sparkle Boy (ages 4 to 8)
Sparkle Boy by Leslie Newman is a great story for our 4 to 8 years old. It talks about acceptance within the family and having that inclusive space within the environment and supporting our gender-diverse children.
#4) Our Rainbow by Little Bee Books (0 to 3 years)
Our Rainbow by Little Bee Books is a beautiful, illustrated children book that talks about the meaning behind each color of the rainbow. I truly love this book, as it is a great conversation starter about the brown and black on the rainbow too!
#5) Call me Tree (ages 4 to 8)
Call me Tree by Maya Christina Gonzalez is a beautiful multi-language book (Spanish and English) that talks about belonging. We may all identify differently, but we all belong together as a community. Did you know some folks uses "tree" as a pronoun?
Happy Reading!
Thank you so much Niña for these recommendations! Some of Niña's suggested reads will be available for families to enjoy in the centre, and we encourage you to take advantage of book selections through the Parkdale Library as well. You can enjoy stories and songs with Niña on June 8th, when she joins us for guest circle time at 10:00am. Keep your eyes on our calendar for other exciting events going on this month.
HAPPY PRIDE!
-Creating Together