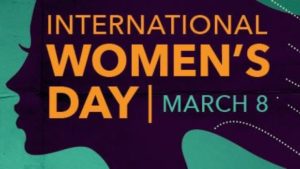 Each year, the team at Creating Together puts on a special day for the women of our community, for International Women's Day (IWD).
This Thursday March 8th, join us at  for homemade facials, hand softness and a special snack for all!
We hope do see you there!
What is International Women's Day?
International Women's Day (March 8) is a global day celebrating the social, economic, cultural and political achievements of women. The day also marks a call to action for accelerating gender parity. (https://www.internationalwomensday.com)
Origins of International Women's Day
We can trace the beginnings of International Women's Day back to labour movements in North America and Europe in the early twentieth century, with a growing force for women to take part as equals in society. The first International Women's Day was observed on March 19, 1911 in Austria, Denmark, Germany and Switzerland. That day, more than one million women and men showed their support by participating in public events. In the years that followed, other countries began to observe and celebrate this day. The United Nations began celebrating IWD in 1975, later adopting March 8 as the official International Women's Day.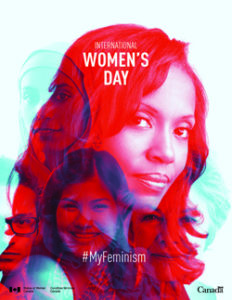 This Year's Theme: Feminism
Each year, IWD carries a different theme, and this year, the theme is Feminism. According to the Government of Canada, "Feminism is simply about equality – equality for women, men and people of all gender identities. Achieving gender equality means that everyone has the opportunity to reach their full potential." (http://www.swc-cfc.gc.ca/commemoration/iwd-jif/theme-en.html).
This year's theme, #MyFeminism, is inspired by the role feminism and celebrates the feminists, activists, advocates and allies to lead the way to global change.
Other Ways to Get Involved
Here are ten ideas from "The Status of Women Canada" for how you can celebrate International Women's Day:
Take part in an International Women's Day event in your community.
Participate in the #MyFeminism campaign by providing your answer to the question: What does feminism mean to you?
Recognize the achievements of an exceptional woman in your community by profiling her in a local paper or online platform, making a donation to a charity in her name, or nominating her for an award (such as the Governor General's Award in Commemoration of the Persons Case).
Print the International Women's Day poster to display in your office, home or community.
Encourage youth to get involved through classroom discussions and activities, using the Educators' Toolkit.
Learn more about the challenges facing women around the world from international organizations like UN Women.
Donate your time to a local, national or international organization that supports women and gender equality.
Talk with men and boys about their role as advocates and allies for gender equality.
Plan a fundraising event at your workplace or school for a charity that works with women or works to advance gender equality.