March 8 is International Women's Day, a global day of recognition celebrating the social, economic, cultural and political achievements of women and girls, and raising awareness of the work left to be done.
Celebrating at Creating Together
At Creating Together, we will be celebrating throughout the week of March 8-12 through our online and remote programming, to honour the women of our communities. Whether it's crafts, circle time, story time, or the parent info sessions, we have a great line-up for you. Check out the calendar, invite your friends, and join us!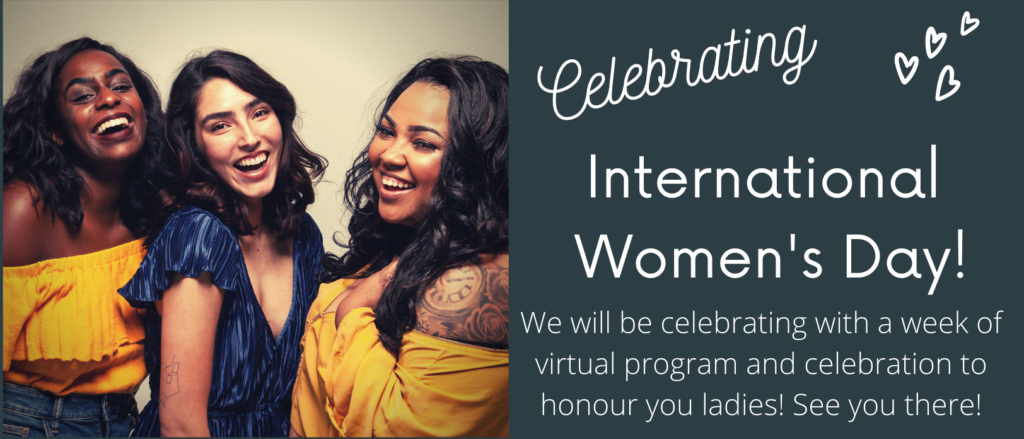 National Theme: Feminist Recovery
Each year, the Government of Canada promotes a new theme for International Women's Day, to increase awareness around important issues affecting women across the country. This International Women's Day, the Government of Canada invites all of us to take a pledge to advance gender equality and support an inclusive recovery from the COVID-19 pandemic by using #FeministRecovery on your social media accounts.
What is an Inclusive Recovery?
An inclusive recovery offers the opportunity to advance gender equality and provide economic and social stability for all Canadians.
It has identified fundamental gaps in our society and disproportionately impacted those who were already marginalized, vulnerable or struggling. On every front, the COVID-19 pandemic has eroded hard-fought gains to gender equality. From layoffs to lack of child care to increased unpaid work to the rise of domestic violence, women have been most deeply impacted by the health and economic crisis.
The Government of Canada is working to create an Action Plan for Women in the Economy to help women get back into the workforce and ensure a feminist, intersectional response to this pandemic and recovery. This Plan will be led by a diverse task force of experts and guide a whole-of-government approach.
How to Get Involved in Canada's Response
Learn more about how to get involved by clicking the image below:

Creating Together Offerings
Link to craft video to make a card for a special woman in your life: https://fb.watch/42eU9iinQi/ 
Watch our Circle Time with Leah that is all about loving your body: https://fb.watch/40REt0ARs0/ 
Also – Join Leah for Women's Day  parent and caregiver discussion and resource share on raising feminist children on March 8th at 2:30 pm (Zoom Link – zoom.us/j/7391226799)
See our virtual program poster below for more information about our virtual programming to support you in being the best you can be for your children).