Getting children outside to enjoy time for free play in natural environments increases attentions spans, creative thought, and the desire to learn through exploration (https://www.asla.org/ContentDetail.aspx?id=39558). It also helps their motor, sensory, social and cognitive development – and is great for their general health and well-being (https://www.learningpotential.gov.au/the-benefits-of-outdoor-play).
Finding ways to be active in colder winter months can be challenging, and even more so with physical and social distancing measures in place. The Parkdale Village BIA is proud to support a local community initiative; Parkdale FitPlay! The Parkdale FitPlay Campaign provides a fun affordable way for Parkdalians to be active outdoors safely throughout the winter months. Kicking-off on Wednesday, January 27 for 4 weeks, and with the support of local fitness leaders and personalities from Parkdale's diverse Black / BIPOC communities, you're invited to get outside, get fit and have fun!!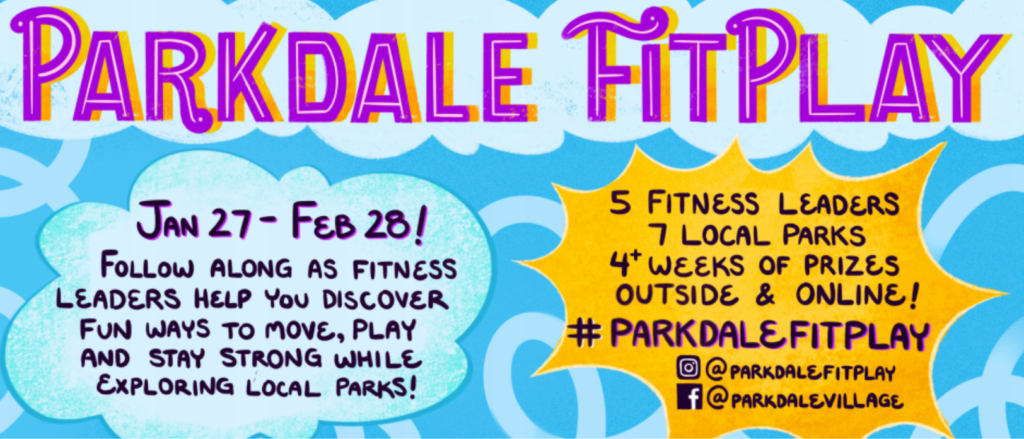 The FitPlay
Community members are encouraged to visit designated public park locations and participate in self-led physical exercise and play, inspired by the FitPlay letter key.
How it works
Each letter of the alphabet, A to Z, is associated with a simple exercise most can perform some variation of safely. E.g. A = 10 high knees on the spot.
Participants self-select a word or phrase and perform the exercises associated with each letter. E.g. P A R K D A L E = 10 squats, 10 high knees on the spot, etc.
Mix up your FitPlay by choosing a new word, a new park  or a new challenge each time and invite your Parkdale friends and neighbours to do the same!
Here is What You Need To Do
Video tape yourself, children or family doing some physical activity in a park near you
Upload your video on the dedicated Parkdale FitPlay Facebook event page and Instagram page
Personalize your post! (eg., "Hey Parkdale Friends! I'm so excited to be part of the Parkdale FitPlay – a fun way to be active outdoors safely through the winter! I just FitPlayed at (name of park) and am challenging you to do the same! Take a break, get outside, get outside, get moving then tag a friend! Follow @parkdalefitplay for the exercise key, demo videos, chances to win and more!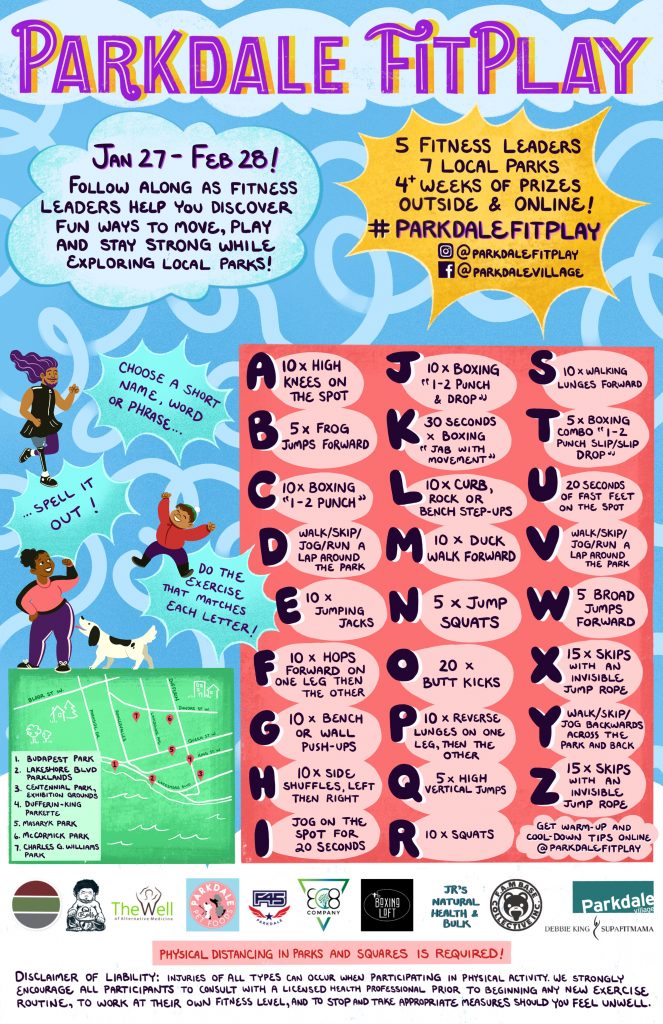 Full Details
FitPlay Contest Details (Article by Anna Bartula)
Hashtags: #parkdalefitplay
Instagram/Facebook Tags: @parkdafitplay@supafitmama