Did you know that of the 54,000 people living in Parkdale, 40% have a Mother Tongue other than English or French (Ward 14 Census, 2011)? At Creating Together, we celebrate the diversity of Parkdale as a place where people bring together their cultures and values, creating a safe and fun environment for children and families to thrive.
In fact, research since the 1950s shows us that no matter which language you speak or where you are from in the world, traditions and rituals in family life are linked to increased happiness, emotional well-being, and a greater sense of identity in children. Whether it's Sunday dinners, birthdays, or family game night, having routines that you do as a "family" is important on many levels. If you're looking to create a family routine, take a look at our calendar and consider joining us for a weekly activity like Literacy Mondays, or Family Playtime every day at 9:30!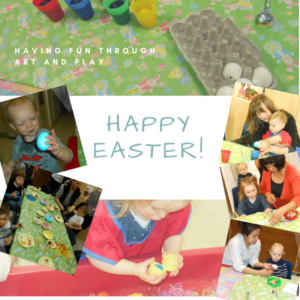 Last week, we celebrated Easter with the age-old traditions of egg decorating, egg hunting, and of course the sharing of food. In many cultures around the world, the egg is a symbol of new life, fertility and rebirth. Traditionally used as gifts during the holidays of Easter or springtime, egg decorating extends across many cultures, and the children of Creating Together had a wonderful time decorating with their parents and caregivers.
Mark Your Calenders!
Coming up, we help families and caregivers celebrate Mother's Day (Sunday, May 14th) and Father's Day (Sunday, June 4th), so don't forget to join us the week of May 8th-12th and May 29th-June 2nd to create some loving gifts for mom & dad!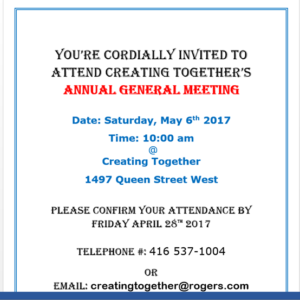 Also coming up on May 6th, is our Annual General Meeting. This is a great opportunity to meet the Board, celebrate all that we have accomplished to date, and make suggestions for moving forward. Please confirm by April 28th if you'll be attending (details in the invitation to the right).
We hope to see you there!