What is National Nutrition Month?
For over 30 years, Nutrition Month has been the most visible public awareness campaign for dieticians, reaching millions of Canadians. It began in the late 1970's as a "Nutrition Week" with a small group of community dieticians. Local dieticians across several provinces then began planning events and activities in their workplaces, shopping malls, libraries and with the media. In 1981, The Canadian Dietetic Association (now Dieticians of Canada) and all the provincial dietetic associations jointly sponsored the first National Nutrition Week. The primary purpose of the Campaign was to increase public awareness about the importance of healthy eating by identifying dieticians as the most credible source of food and nutrition information. By the end of the decade, the campaign was expanded to a month. (https://www.dietitians.ca/)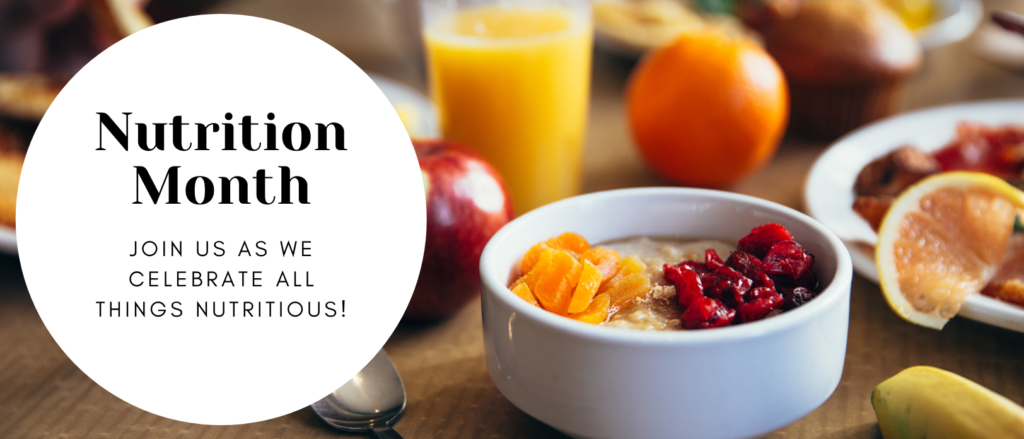 Finding Your Healthy in 2021
Each year, a Nutrition Month theme is selected by Dietitians of Canada based on a scan of the environment and with input from members. Themes have varied from the 1994 campaign "Nourishing our Children's Future" to "Get the real deal on your meal" in 2012 to "Unlock the potential of food" in 2018.
Nutrition Month 2021 will centre on the idea that healthy eating looks different for everyone.
Dieticians will push back against simplified notions of 'a healthy meal' and 'rules' and share examples of how culture, food traditions, health conditions and personal circumstances influence what healthy eating can look like.

Dieticians of Canada
Culture and Food
Our traditional knowledge and cultural practices are interwoven with how we experience food in our communities. Toronto is often referred to as 'the most multicultural city in the world, with around half of its population born outside the country, 200 ethnic groups and over 140 languages spoken.
It comes as no surprise that Creating Together has revolved much of it's programming around the food and culture of the families we serve. Traditionally, we would come together for a potluck or to share a feast in celebration of a religious observance (eg., Diwali, Losar), celebration (eg., International Women's Day), or cultural acknowledgement (eg., Black History Month).
9 Ways to Get Involved
This year we celebrate Nutrition month through our virtual and remote programming – and here are some things to try out with your family:
New Food Challenge – Each week, commit to trying out a new fruit and vegetable!
Organize a Food Drive – Organize a food donation campaign for a local food pantry or shelter such as the Parkdale Community Food Bank.
Receive – Creating Together has a food program – if you are in need of food, please contact our staff, or stop by personally Monday-Friday before 2pm.
Commit – Plan to eat more meals together as a family during National Nutrition Month.
Cooking Class – Get some friends together and take turns – each week, one hosts an online cooking class with your favourite traditional recipes. Take a look at this Cooking Video offered by Creating Together, to help you out: https://www.facebook.com/CreatingTogetherParkdale/videos/915402069215584
Spark Conversation – Get your friends and family members to share their favourite nutritious cultural dishes, the memories they have about those dishes, and what makes the meal nutritious. Also, you can join Leah for a parent discussion at 2:30 pm (on Zoom) on building healthy relationships with food
Support Food Share – Food Share is doing amazing things to bring healthy food to children. Check out Food Share's programs, order a healthy food box as a learning program with your family, or take a look at this video they made: Recipe for Change:
Learn – There are some great videos and information on building healthy brains at https://www.healthybabyhealthybrain.ca/?page_id=625. Also, another great way to get informed is to become familiar with the revised Canada Food Guide, and have a discussion about it with your family! Picky Eater? No problem! Take a look at these tips for pick eaters.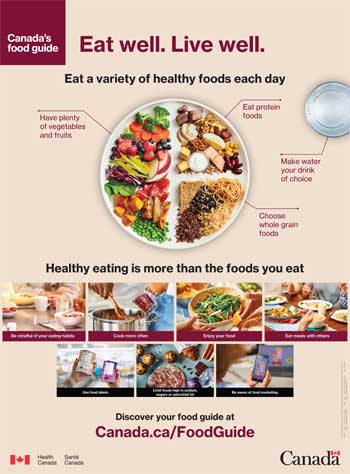 Additional Resources