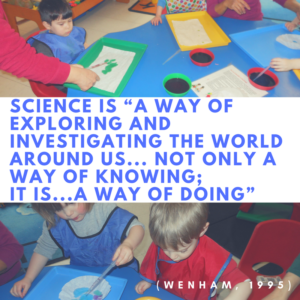 Science is "a way of exploring and investigating the world around us… not only a way of knowing; it is…a way of doing" (Wenham, 1995, p. 2). And according to the experts, it is important in the lives of young people for a number of reasons:
Science involves a lot of communication with other people.
Science develops patience and perseverance in kids.
It can help kids form a healthy dose of scepticism.
Science teaches kids about the world around them.
Science can spark in kids' minds that they, too, can help solve the world's big problems.
So how do we foster science in our young?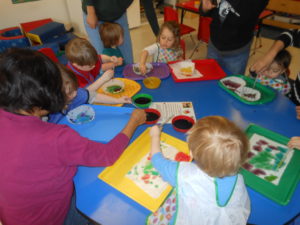 According to Wenham, Science involves the discovery of something that is true, why something occurs, and how something is investigated (1995). Educators, parents, and caregivers can facilitate children's involvement  in science by providing materials, raising questions and problems as children play, and encouraging them to observe, predict, describe, and theorize about what they're doing – ultimately helping them to grow in their thinking.
The National Science Education Standards (National Research Council, 1996) call for science to be taught through the inquiry method. Inquiry follows the tradition of hands-on exploration of children's own questions that eventually lead to discovery of scientific concepts.
"Students should be actively involved in exploring phenomena that interest them. These investigations should be fun and open the door to…more things to explore" (American Association for the Advancement of Science [AAAS], 1993, p. 10).
The team at Creating Together is excited to be offering Science Activities this year, so parents and caregivers can come together with their children and encourage a hands-on exploration of the world around us!
Join us! We certainly look forward to seeing you!

References
American Association for the Advancement of Sci- ence (AAAS). (1993). Benchmarks for science literacy: Project 2061. New York, NY: Oxford University.
National Research Council. (1996). National science education standards. Washington, DC: National Academy Press.
Wenham, N. (1995). Understanding primary science. London, UK: Paul Chapman.