No matter how much some children are told not to worry, they continue to do so. And these worries, along with overwhelming feelings that seem to put a damper on everything, rob them of much pleasure and fun. As we age, we release many of these fears – but as a parent or guardian, you might want to understand how can you best understand your child's fears, and how can you help ease your child's worries and anxieties.
Understanding Fear and Anxiety
Simply put, fear is:
an agitated feeling associated by actual or threatening danger, pain, or harm. It is a normal and sensible response to something that could reasilistically cause harm." (http://www.sickkidscmh.ca/ABC/Parent-Resource/The-Worried-Child/Specific-Fears.aspx)
Young children have less experience with the world, they encounter things for the first time and don't understand what is either reasonable in terms of danger, pain, or harm. As a result, children tend to have many more fears than adults.
Anxiety on the other hand, brings out the same physical responses associated with fear, but to events or things that are not dangerous, or much less dangerous than the person imagines them to be. For example, some children are anxious about being left with a stranger, when, as the adult knows, there is absolutely no threat from Aunt Mary. The child's perceptions result in powerful feelings that harm is likely to come their way.
"Without fear, we'd jump headlong into things we shouldn't," says Tamar E. Chansky, PhD, author of
Freeing Your Child from Anxiety.
The first response to fear and anxiety is to try to avoid the feared object or situation – and for many young children, this solution seems to be adequate. From their perspective there is no need to do anything else. Most adults, however, see that this is not the best solution, and if you avoid the things you fear, then the fear increases and you may lose out on positive experiences like play dates and sleepovers.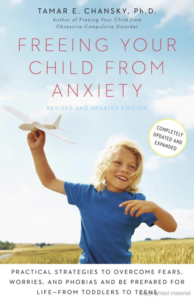 Common Fears
Children and parents share many of the same fears (e.g., getting lost, unexpected noises, silence in a new environment), but also fear things that come from their own imagination (e.g., monsters). According to Amy Stuart of WebMD, Some of the most common things young children under the age of 5 are often afraid of are:
Fears of an Infant / Toddler
Loud noises or sudden movements
Large looming objects
Strangers
Separation
Changes in the house

Fears During Preschool Years
The dark
Noises at night
Masks
Monsters and ghosts
Animals such as dogs
[https://www.webmd.com/parenting/features/childhood-fears-anxieties#1]

What to Do: Tips for Parents and Caregivers
Each month, Creating Together holds information sessions for parents and caregivers on different topics of interest to the community, and May's topics of conversation were "Childhood Fears". The information sessions were focused largely on 2 of the most common childhood fears:
Fear of being away from parents: Even if the parent / caregiver leaves the room for a few minutes, the child may get upset.
Fear of strangers: Up to about 6 months, babies usually smile and "go to" almost anyone – but by about 7 months, many will show a fear of strangers, especially if the stranger gets very friendly too quickly.
Below are some tips for helping your child feel better while you're away, and helping them feel better with "new" people. For more information, please come to Creating Together and ask for the Toronto Public Health handout that was given at the information session, and check out the "Additional Resources for Use with Children" below.
Tips: Helping your child feel better while you're away:
Tell your child when you are leaving and when you'll be back
When you are in another room, talk so that they can hear you
Take them with you if you are going to be away more than a few minutes
Let your child get to know the babysitter before leaving them alone together
Have the babysitter come before your child goes to bed
Always say goodbye (never sneak out_
Try not to show your guilt if you are feeling guilty about leaving them
Never get mad or tease your child for being afraid
Tips: Helping your child feel better with "new" people:
Give your baby time to get to know the stranger – let them set the pace
Have the person give the baby something to play with – when they smile and take the toy, they are showing a readiness to make new friends
Never make the baby to to the person
Stay where the baby can see you
Never get mad or tease your child for being afraid
Tips: Helping your child feel comfortable in new places:
Tell the child about the new place and what they can do there
Stay with them for as long as they want
Take them on trips to the zoo, park, shopping or visiting
Never get mad or tease your child for being afraid
Additional Resources for Use with Children:
Self Calming Cards. A set of 24 cards suitable for use with children that provide verbal, visual, playful and self-nurturing strategies for calming yourself down. By E. Crary. (2004). Seattle, WA: Parenting Press.
Starbright: Meditations for children. This is one of several books that Maureen Garth has written that have simple meditation and visualisation exercises that help children to relax. By M. Garth. (1991). New York: Harper Collins.
When I feel afraid. This is a picture book to use with younger children who feel afraid. By C. J. Meiners. (2003). Minneapolis, MN: Free Spirit Publishing.
When I'm feeling scared. Written by an Australian Psychologist, this book is ideal for use with younger primary aged children. By T. Moroney. (2005). Rowville, VIC: Five Mile Press.
Cool karma – Relaxation for children and adolescents. Written by an Australian Occupational Therapist, this article provides examples of simple relaxation techniques such as breathing awareness and visualisation strategies for young people. Available from: http://www.e-bility.com/articles/relax.php