Family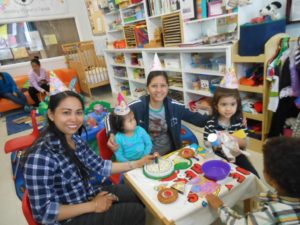 is the single most important influence in a child's life. From their first moments of life, children depend on parents and family to ensure they are safe and their needs are met. Parents and family form a child's first relationships, preparing them for the world around them. And certainly, children thrive when parents are able to actively promote their positive growth and development. However, every parent knows that it's sometimes difficult to do this important work without help, support, and additional resources.
Creating Together is committed to supporting parents and caregivers, understanding the vital role they play in nurturing the healthy growth and development of children. Here are a few examples:
Mothers and Fathers Day: Traditions of Gratitude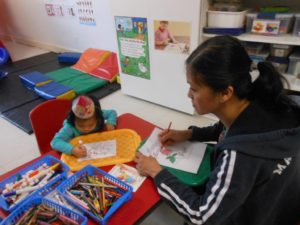 Last month, we honoured and celebrated Mothers Day with a lovely day of food, crafts, and activities.
It was beautiful to witness the moms and caregivers come out to celebrate and share this special tradition of gratitude and motherhood with the children of our community.  A lovely time was had by all! Keep in touch regarding what our plans are for Father's Day next month!
Parent Relief Program
At Creating Together, we know how busy it can get being a parent. This is why we offer our Parent Relief Program every Thursday from 10am-2pm. If you haven't tried it out yet, come in and ask the staff how it works. They'd be more than happy to share with you how to sign up, tips for nurturing the transition for your children, and when you can get started!
Parenting Workshops and Information Sessions
It can be hard to attend workshops and information sessions when you have a busy little one. Not an issue at Creating Together. Whether it's a workshop in Toddler Food prep (Next visit: June 14th), or an onsite visit from a Health Nurse (Next visit: June 26th) to answer questions, we make it possible for parents and caregivers to access expert advice on important topics, in a child-friendly environment.
Toy Library 
Toys are expensive, and your child's interests shift constantly. With the Toy Library, families and caregivers can borrow fun, educational toys all year long.
Clothing Exchange
Located in the storage cabinets in the kitchen, this program gives families the opportunity to bring cloths they don't need any longer, and borrow cloths that would be helpful.
Resource Library
The Resource Library, located near the sign-up sheet at the front of the Centre, offers tips and tools for parents and caregivers on a wide range of topics. If there's something you're working through and you'd like to take a look at the literature, swing by – you can browse our collection yourself, or ask one of the staff for some guidance on a particular topic. Further resources online can be found on ParentsCanada.
See our Calendar for a listing of what's on this month.