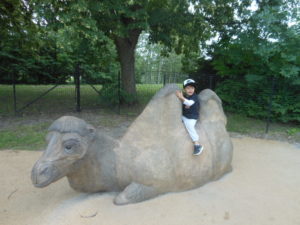 As summer nears it's end, you may be trying to squeeze in those last few field trips, camping trips, and family visits before school starts. One amazing opportunity last month was a field trip to the zoo for the children, families and caregivers of Creating Together.
In studies, after a trip to the zoo, children had more understanding of important environmental concepts such as conservation and endangered species. It also sparks curiosity & discovery, promotes family bonding, and is great exercise! When we took our annual field trip to the zoo this summer, an amazing time was had by all, and we wanted to share some tips on planning your trip to the zoo.
Talk to your local Library about accessing a zoo pass for your family through the MAP Program (don't forget your library card, and make sure it's current and up to date on all payments!).
Pack Your Own Food & Lots of Water: While there are some options onsight to purchase food if needed, there are also some great areas with tables and shelter for you to unpack your own picnic and save money.
Download some kids fact sheets and worksheets from KidsKonnect or these Educator Resources from the Toronto Zoo.
Plan your trip by taking a look at the Toronto Zoo website. Their "Explore the Zoo" section describes not only how to get there, but also some of the must-sees, exhibits, rides, and information about the family centre.