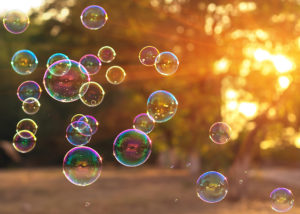 Join us for some bubble play on October 26th at 1:15 – and get ready to have some fun!
But did you know that bubble play also an amazing way to work on developmental skills, such as:
Fine motor skills & hand/eye coordination
It takes a lot of fine motor skills to pinch the skinny wand, coordinate two hands to hold the bottle and dip, hold the blower with a pencil-like grasp, and using hands in different ways to pop the bubbles – who knew?
Visual tracking skills
Those little ones work their visual tracking skills when they follow where the bubbles go.
Sensory processing skills
Bubbles have such an interesting texture, your little ones will experience their wetness, sliminess, stickiness. What's more, the act of blowing can also be a very effective sensory-based way to help kids "organize", calm, and focus their bodies.
Social and communication skills
When playing in a group like we do at Creating Together, children practice taking turns, keeping personal space. They also establish eye contact and ask or signal to you for "more".
Gross motor skills
Have you seen kids chase bubbles?! What an fun way to get kids to stretch up, squat to the floor, run, jump, and reach!
Identifying body parts
Pop with your finger, your elbow, your knee, or your nose!
Language and cognitive skills
You can use bubble play as an opportunity to describe what the bubbles are doing, what the children notice.
Come and try it out this Thursday afternoon, and feel free to ask the staff any questions on how to turn Bubble Play into an incredible learning opportunity for you and your little one!