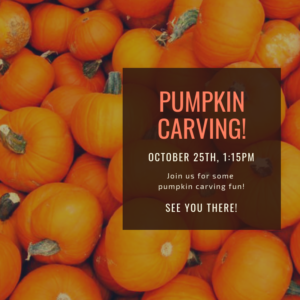 If you're looking for some fun ways to celebrate Halloween, Parkdale is the place to be! Take a look at these great events next week – all within the hood!
You can get started by joining us on October 25th at 1:15pm for a Pumpkin Carving extravaganza at Creating Together – we would love to see you there! Read more about where the tradition of carving pumpkins came from HERE.
Come out Friday October 26th for an early Halloween treat for families! "Count Dracula and company participate in a cruise for sea-loving monsters, unaware that their boat is being commandeered by the monster-hating Van Helsing family."
Halloween Howl is back October 26th & 27th! Explore the haunting side of nature at the High Park "Halloween Howl" night hike. This walk through the woodlands will lead to lots of creepy nature spots to learn the not-so-scary truth about bats, spiders, toads, gnomes and decomposers. Finish off the night by warming up around a campfire. Fun for all ages! Costumes are recommended but not required. Don't forget to bring a glass jar to make your own lantern!
Come carve a pumpkin ($3) on October 28th and set it afloat with other ghoulish gourds! Meet at the wading pool in the northwest corner of High Park, just west of the main entrance to High Park at Bloor Street West and High Park Avenue. Proceeds will send a class from a high needs school on a field trip to the High Park Nature Centre this fall!!
And you can bring that pumpkin along with other creations to Sorauren Park on November 1st for the annual, world-famous Pumpkin Parade! With more than 1,500 pumpkins on display in recent years, the Parade is a neighbourhood and even regional highlight of the season.
Come on over on October 31st for a Halloween Costume Party. We'll have Halloween crafts, songs and other activities. Decorate cupcakes and trick or treat!
And More…
For more activities for kids thoughout Toronto and the GTA this holiday season, check it out – and have a wonderful Halloween!
Halloween Activities & Events in Toronto & GTA for Kids: 2018