Health Canada has completed its revision process and early this year, began to roll out an updated version of Canada's Food Guide, marking the first update since 2007.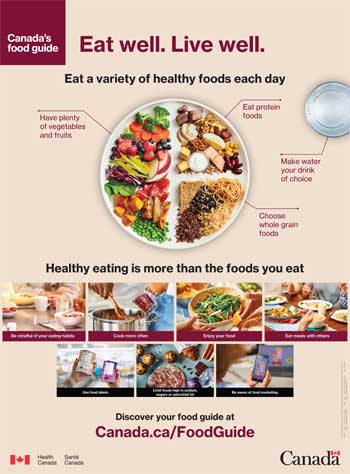 With the Food Guide originally aimed at tackling wartime rationing and malnutrition, it has an interesting history – with many updates and transformations that have taken place since its inception in 1942. The new plan is based on an updated set of guiding principles, focused on consuming more nutrition-dense foods on a regular basis and staying away from harmful fats, sodium and sugar. The guiding principles highlight the importance of knowledge and skills relating to health and nutrition, advising that Canadians shop for nutritious foods, plan and cook healthy meals and then share them with family and friends, which "can help reinforce positive eating habits and help children develop healthy attitudes towards food."
The Guiding Principles also move the conversation beyond the individual to include the impact of healthy eating on our environment, encouraging us to look at the impact of our food systems (e.g., greenhouse gas emissions, water quality, food waste, animal welfare, soil degradation).
The new Canada's food guide is a mobile-friendly web application, which provides Canadians with easier access to dietary guidance. There are also dietary guidelines and considerations for health professionals and policymakers.
This month, Public Health Nurse Rachel joins us at Creating Together to go through the changes in the food guide, and be available to answer any questions parents and caregivers might have. See you on April 12th at 10am!

Additional Resources