Did you know that 7 out of 10 fires in Canada occur at home, with most occurring in the kitchen, and residential cooking being the leading cause of fire-related deaths? Please take a moment, and read through these helpful, life-saving tips for Kitchen Fire Safety.
And why stop there? Protect your family and home from fire with smoke alarms and by planning your escape, and raising awareness within your family about fire safety. Take a look at these kits and children's activities, to help you get the conversation started:
To support families in the process,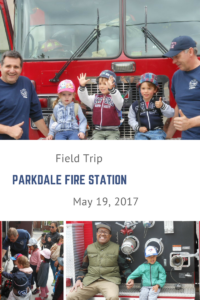 on May 19th Creating Together families and caregivers enjoyed an exciting trip out to the Parkdale Fire Station on Lansdowne Avenue. The kids enjoyed meeting the firefighters, and learning about fire safety. As always, the staff at our local fire station were great with the kids, and a great time was had by all.
A huge thank you to the Fire Fighters of our city, for the work they do in keeping us safe!