With everybody inside so much more these days due to social distancing and self-isolating, we're all getting a lot less time outside. With a bit of creativity though, we can all get the outdoor dose that we need.
Getting children outside to enjoy time for free play in natural environments increases attentions spans, creative thought, and the desire to learn through exploration (https://www.asla.org/ContentDetail.aspx?id=39558). It also helps their motor, sensory, social and cognitive development – and is great for their general health and well-being (https://www.learningpotential.gov.au/the-benefits-of-outdoor-play).
In fact, "wilderness therapy" has emerged as an alternative treatment for behavioral and psychological problems in adolescents and teens. One study found that "wilderness therapy" was an effective treatment for teens suffering from attention deficit disorder, alcohol and drug addiction, depression, and other behavioral problems. Afterward, patients showed higher levels of confidence, better organizational and leadership skills, and exhibited fewer problematic behaviors (http://www.webpages.uidaho.edu/wrc/Pdf/howwildtherworks.PDF).
For more benefits of getting outside, you can check out Balancing Screen Time with Green Time.
For today though, we'd like to give you some resources to get you and your kids outside in ways that respect social distancing and keeps everybody safe. It has become clear that we all need new and creative strategies for connecting to the natural world, even if that may mean being indoors. 
Star Gazing
"If we can't see the stars, how will we know our place in the universe?"

Trevor Hancock, a professor at the University of Victoria's School of Public Health and Social Policy
Drops in air pollution have revealed awe-inspiring stars that suburban and urban dwellers would have never seen otherwise.  So set a star date for a bright night, bundle up, grab a blanket, and go see what the stars have to offer! Resources: International Dark-Sky Association, and How to Start Stargazing With Your Kids. For the top 10 books on stars, check out bookroo's list here: https://bookroo.com/books/topics/stars or check out this great list on Stars, Planets and the Night Sky that you can order online from "Start with a Book".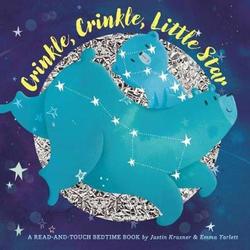 Nature Window
If you can't get outside, you can still experience moon watching, stargazing (if stars are visible), cloudspotting, bird-watching, and nature in general. Create a world-watching window or a nature window, set up a date, set up all your supplies, and get ready to observe! Things to consider bringing: your nature notebook, field guides (birds, stars, etc), binoculars, a telescope, and a camera – you could maybe even a sound recorder to capture the sounds of the natural world.
Make a Spring Nature Table
A spring nature table is a space in the home used for placing natural items that reflect the season. It is meant to be explored and used as a nature study aid in the home. Nature tables give children the opportunity to play with objects found in nature, helping them notice the little changes that happen when a season shifts, and connect with the natural world. They also create a sensory experience for the child, and can be used for pretend or imaginative play. Check out this lovely table by the Imagination Tree: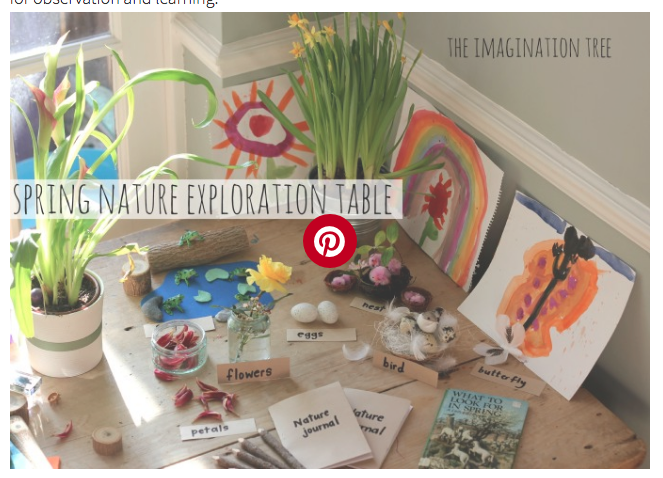 Consider what the season represents for your family's culture, values, beliefs, celebrations. Then, go around your home with that in mind and you'd be surprised what you can find (rocks, leaves, sticks, acorns, pine cones, seasonal art and crafts, silks and candles in the season, fall books for kids, etc)! Put these together, and voila!
Nature Scavenger Hunt
Make a list of things found in nature around your garden, block, or a local trail. Then go out for a walk or hike with the family and see how many items you can find. The print shops are all closed due to COVID-19 so you'll need to get creative – make a list on your phone or do some lists by hand. Looking for some ideas? Check these templates out here: https://www.freekidscrafts.com/summer-scavenger-hunt/
Family Bike Ride
According to Cycle Toronto, as long as you are not infected with COVID-19, symptomatic, or otherwise self-isolating. Riding a bicycle is compatible with physical distancing. In fact, the 2 metres (6 feet) is about the distance of a bicycle. According to the City of Toronto, we can only bike in groups if they are people we reside with, and at this point, city parks' green spaces, including multi-use trails, currently remain open and accessible. Toronto has some really great trails to choose from as well, as per the interactive map here: https://www.toronto.ca/services-payments/streets-parking-transportation/cycling-in-toronto/cycling-google-map/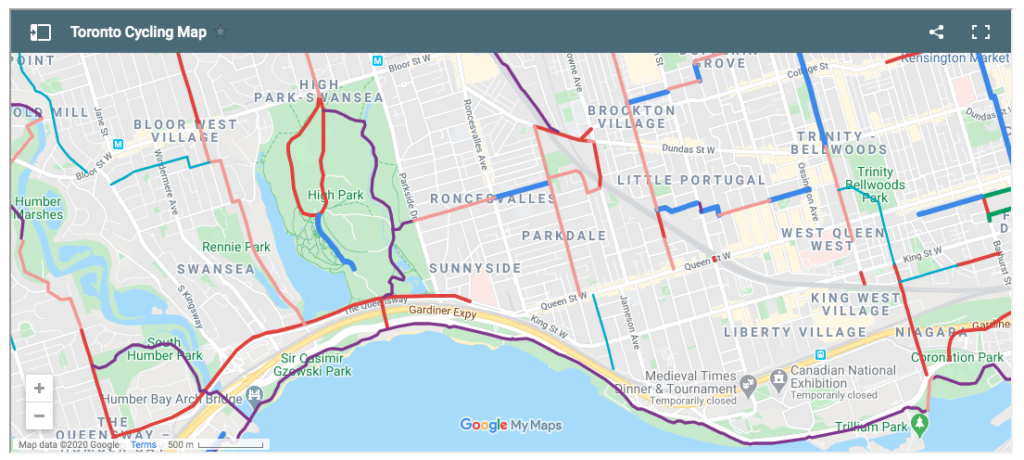 Need some help planning your route? Check out this great article by Cycle Toronto: https://www.cycleto.ca/how-plan-your-bike-route
Tip: Plan ahead! Many of these experiences are also great as we gear up for Earth Day on April 26th!
Stay healthy and safe!