This Tuesday, parents and caregivers came together at Creating Together to enjoy family-time baking together. On the menu: Coconut-Carrot Morning Glory Muffins! Scroll down for the recipe, and mark your calendars for our upcoming Toddler Food Preparation Workshop on May 15th at 10am!
Did you know…
You can freeze any muffin! Bake, completely cool and freeze in any air tight container for up to 3 months. Thaw on a counter for 3-4 hours or overnight.
Have an egg allergy? Want to try a vegan option? Substitute eggs with mashed banana, pumpkin, or applesauce (one-fourth cup of the purée per egg). Another option is ground flax or chia seeds (whisk together 1 tablespoon of ground chia or flaxseeds with 3 tablespoons of water until fully absorbed and thickened).
Carrots are incredible for vision, disease prevention, bone development, constipation and more. Check out these 8 health benefits of carrots.
Carrots are one of those ingredients that are affordable as an organic option. You can often find a 1lb bag for only $2!
Try it at Home

If you couldn't make it to family-time baking this week, enjoy the muffin recipe below and try it at home! Feel free to save and print this recipe card and add it to your cookbook 🙂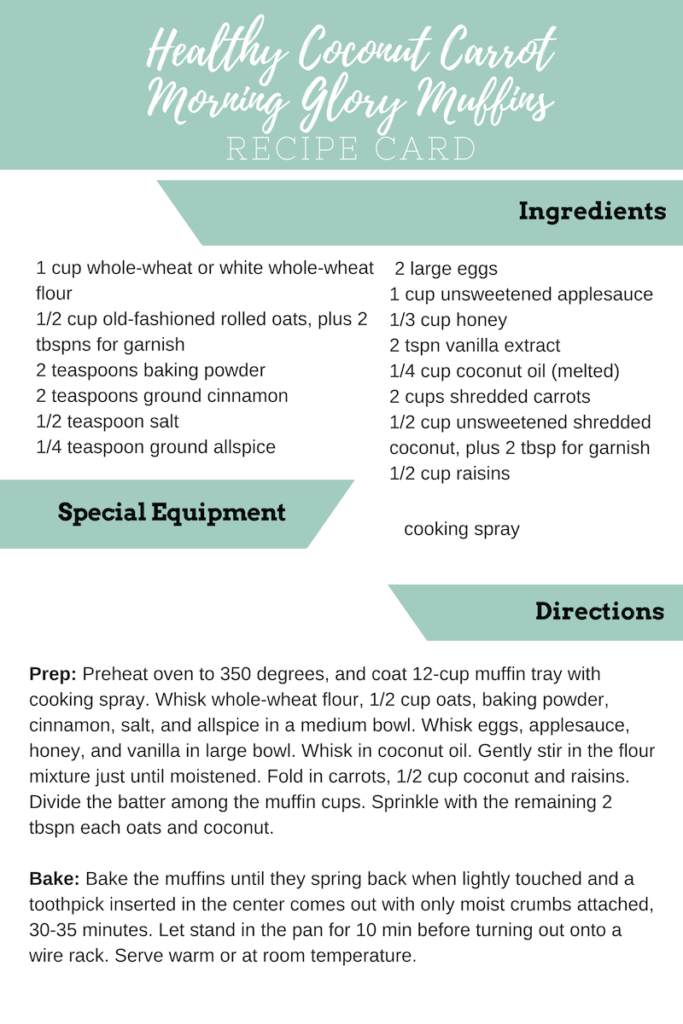 Mark Your Calendar
Also – mark your calendar for our Toddler Food Preparation with Marcela from Food Share next Wednesday May 15th at 10am!