The November Calendar is now out, and we have a lot of amazing things in store for the parents, caregivers, and children of Parkdale. Read below for some great highlights!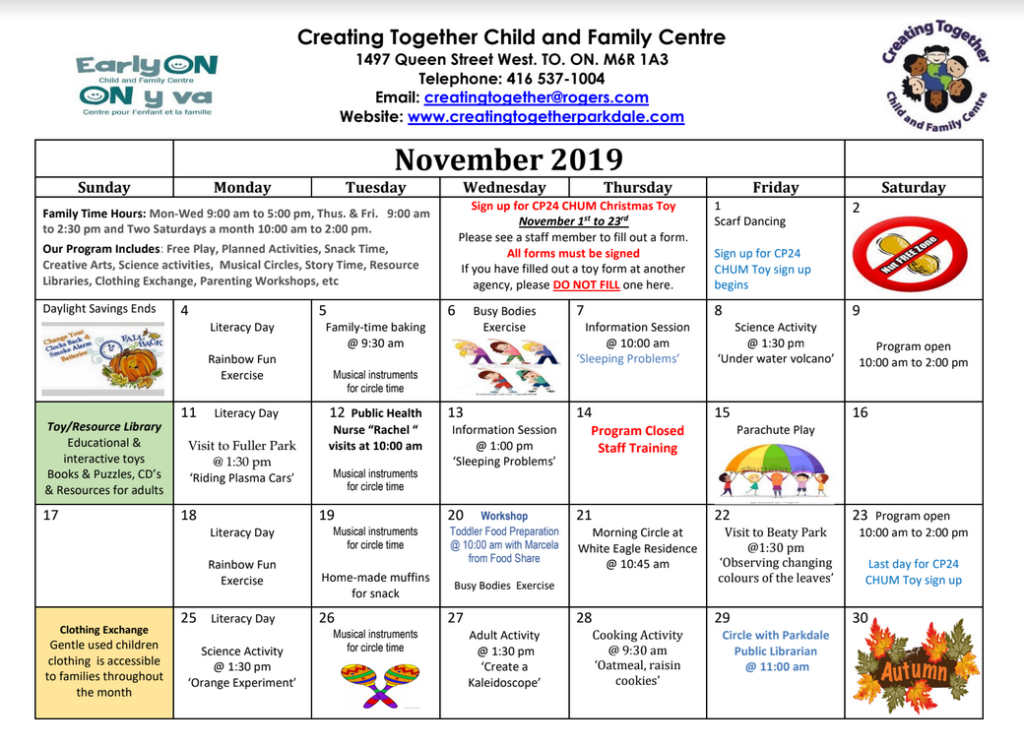 Fun With Nature

Join us on November 11th and November 22nd to enjoy the benefits of nature, at our local parks.
Researchers and natural environmentalists have been studying the effects of exposure to nature on children, and have found some interesting results: Engagement with nature has huge benefits for children physically, mentally, emotionally, and socially.
For instance, Adams & Savahl (2017) discovered it has a significant influence on children's emotional and social well-being, while Pensini, Horn, & Caltabiano, (2016) discovered that early exposure to nature improves one's mental health as an adult. Would you like to help improve your child's short-term memory and ability to focus? Another study shows that being in nature for extended periods of time promotes the development of attention skills, while protecting against inattention-hyperactivity symptoms such as (Ulset, Vitaro, et al, 2017). There are also a number of physical benefits, such as improved vision, and reduced risk of obesity.
Keeping Active

Twice a month, we create healthier communities by bringing in the Busy Body Exercise Cards twice per month.
Did you know Adequate levels (60 minutes/day) of physical activity helps children:
develop cardiovascular fitness, strength, flexibility, and bone density
maintain a healthy body weight
reduce the risk of chronic disease and health problems
lessen the likelihood of tobacco, alcohol, and drug use
feel better every day, through improved mental health and well-being

Scarf Dancing is not only fun, but it's incredibly good for children, and can be practiced at home as well. Here are some benefits:
Sparking imagination as we explore all kinds of ways to play with our scarves
Teaching directional tracking as we visually track our scarves' movement
Improving eye-hand coordination as we play catch or peekaboo
Increasing vocabulary as we verbally describe what we are doing with our scarves
Sharpening listening skills as we move our scarves based on musical or verbal cues
Practicing inhibitory skills as we start and stop our movements with the scarves
Fun with Food
Join us at 9:30am on November 5th for some family baking, or the 28th at 9:30am to make oatmeal, raisin cookies. And don't forget our monthly Toddler Food Preparation workshop with Marcella from FoodShare!

Supporting Literacy
Every Monday is Literacy Day at Creating Together. From 9:30am to 10:30am a staff member will read with a small group or one-on-one, and introduce songs and stories on CDs as well as a variety of stories.
Also, storytime takes place every day at 1pm. Parents and caregivers are encouraged to bring a special book from home that can be shared during this time.

Our Family Support Worker can share with you some strategies on how to read to small children. Every two months a professional literacy consultant provides educational workshops for families. In fact, this month we are very happy to have circle with the Parkdale Public Library Librarian on the 29th at 11am.
Did you know? Books with CDs and headphones are available for use with the children and a variety of children's books can be borrowed for use at home through our Resource Lending Library.
Encouraging Inquiry
Children learn so much through science. So, each month we facilitate a fun learning science activity. This month's science activities are the "underwater volcano" on November 8th and "the orange experiment" on November 25th. Curious? Come out and enjoy!